One of the largest pains we hear from our writing community is the daunting, timely, and daily task of finding credible writing jobs they actually want.
As freelance writers ourselves, we certainly feel this pain too.
Every morning you open 10 browser tabs of different job boards and spend the next few hours scraping through them all to hopefully find 2 to 3 gems you actually care about.
This doesn't even take into consideration the time it takes to apply to each of these jobs.
But don't worry. Your feedback was taken to heart and we're very excited to announce the launch of our aggregated freelance writing jobs board.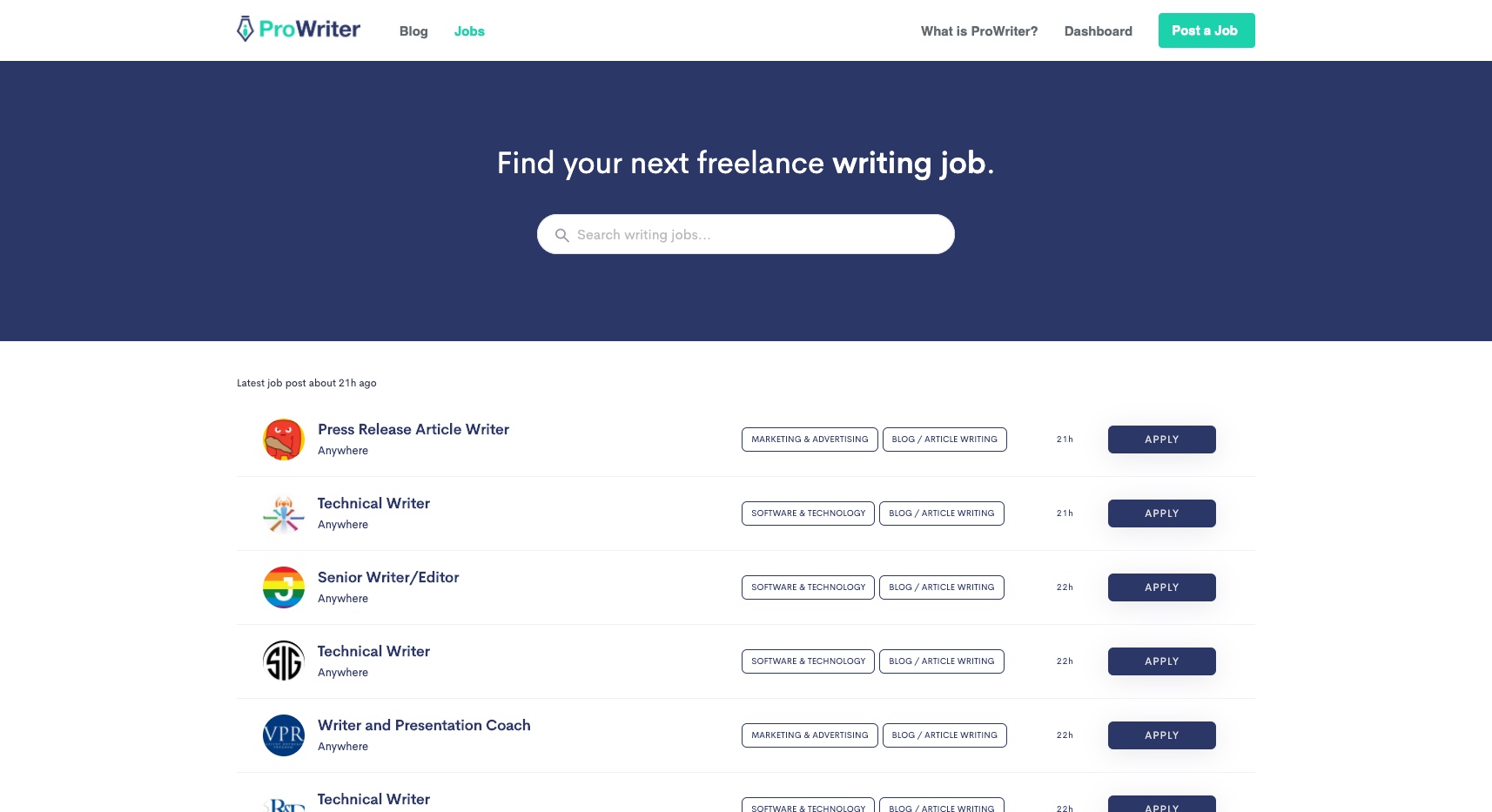 This jobs board aggregates the prime writing opportunities from around the web including:
Our goal with the freelance writing jobs board was to eliminate the time it takes a typical freelance writer to source great writing opportunities from around the web every day.
This first iteration of the jobs board gives you that time back so you can spend more of it writing and earning money!
How do you find these freelance writing jobs?
Every morning before 8am EST, we scrape through the web to find newly posted freelance writing or editing jobs since the previous morning.
This means ProWriter's aggregated freelance writing jobs board is updated daily with fresh writing jobs to search through.
The daily feed of new freelance writing jobs was a key piece of feedback we received from our writing community. While others update their job listings once or twice a month, we wanted to ensure you had fresh job listings to review every morning.
We then import these writing jobs one-by-one into our ProWriter freelance writing jobs database with all of the job listing details that we could find within the original job listing post.
The details we look to capture for each job listing include:
Employer name
Employer website
Job title
Job description
Job industry
Job location
Job duration
Position
Employment type
Average article payout
Average article minimum word count
We look to find freelance writing jobs that will resonate with freelance writers of all talent levels and interests. We know not every job is perfect for every writer but one job is perfect for at least one writer.
Your feedback is also key to how we evolve the writing jobs board so if you have any preferences or suggestions, please feel free to reach out to us!
How do I view and follow these job listings?
First, go check out ProWriter's freelance writing job board at ProWriter.co/jobs.
Again, we update this page daily, so feel free to come back every morning and search through the list for your perfect writing job opportunity.
Speaking of search, we have a search bar at the top of the page where you can enter a keyword, industry, or topic to find all job listings that include those words.

Once you find a job listing that looks interesting to you, click on it to view the job listing details page.
On a job listing details page, you will find all of the important information around the writing opportunity that I listed above.
If you're interested in learning more about the company behind the job listing, you can click on the "View company" button to be taken to their website.
If you want to apply to the job listing, then click on the "Apply to job listing" button and it will take you directly to the original source of the job listing where you can complete the application.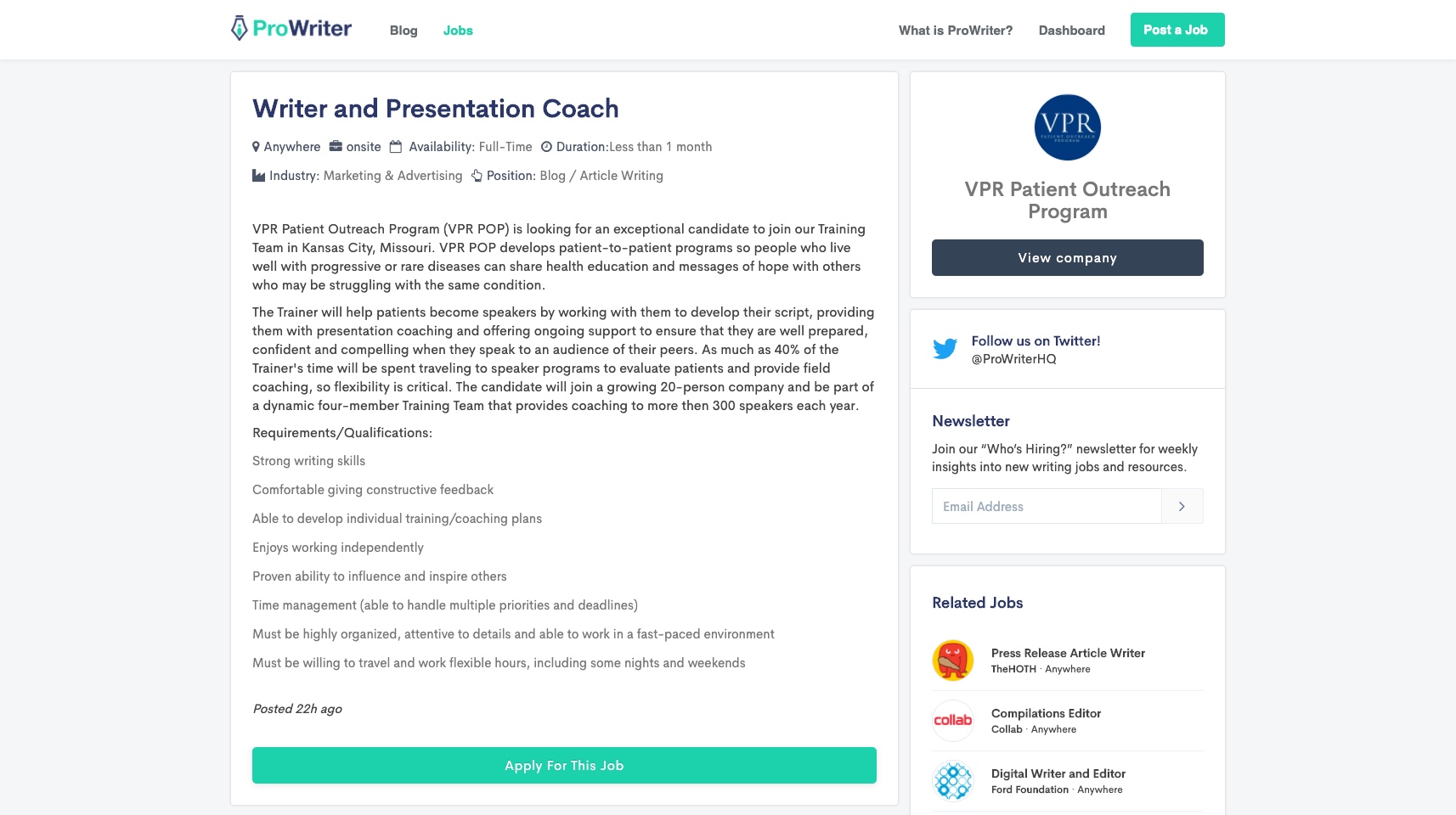 Is ProWriter affiliated with the job listing?
The quick and simple answer is "no" we are not associated or affiliated with these job listings.
Furthermore, the employers that publish these job listings are not compensating us for distributing them on our site nor do we get any compensation if you apply to the job or get hired.
The employers behind the job listings may or may not have an existing ProWriter account, but the jobs we post are not affiliated with an account they may already own.
While all of the current job listings are sourced from external brands or job boards, we have plans to introduce job listings from our ProWriter employer users.
Speaking of…
What can I expect from this freelance writing jobs board in the future?
While the current iteration of the freelance writing jobs board provides value to our writer community by eliminating the time it takes to search through dozens of job boards, we also have some very exciting plans for it in the future as well.
Some of those future updates to look out for include:
Job listings from ProWriter employers

The jobs board currently focuses on aggregating job listings from external sources, but soon ProWriter employers will be posting their job listings directly onto our job listing page.

Messaging employers directly

If you apply to a job listing that was posted by a ProWriter employer directly onto our job listing page then that employer has the ability to message you using ProWriters messaging system. You can discuss the writing opportunity, follow up with files and additional requests, and land on terms you both agree with to kickstart your new writing opportunity.

Managing jobs you have applied to

You will be able to easily keep track of the writing jobs you have applied to – whether they are jobs from external sources or ones posted by ProWriter employers directly.
We look forward to continuing our mission toward helping freelance writers start and grow their freelance writing careers through the best writing tools, resources, and education.
If you have any feedback or suggestions on what you'd like to see in this jobs board then please feel free to reach out to me directly at dave@prowriter.co!