We asked over 1,000 freelance writers all over the world how they're doing in light of the COVID-19 pandemic. They also shared:
Industries where the work has dried up the most
How freelancing will change 3, 6, 12+ months from now
Pearls of wisdom for younger freelancers unsure of what to do
It's been several weeks since the COVID-19 pandemic radically changed daily life the world over. Most of us are sequestered in our homes adjusting to new realities and trying to stay healthy as the story continues to develop.
While the complete effect of social distancing on both the spread of the virus and our economy is not yet fully understood, many are out of work and facing an uncertain future with more unemployment claims filed than at any point in our history.
Out of the millions of workers impacted by the pandemic, freelancers are in many ways among the most vulnerable.
From "gig economy" breadwinners to contractors with revolving sources of income, widespread economic shutdowns do more than just compromise earning potential; they leave exposed professionals who don't have the same protections salaried or even hourly employees may be able to take advantage of.
That's why we wanted to do a quick pulse check on the freelancer market.
We sent a survey to over 1,000 freelancers, mostly professionals working in content marketing, graphic design, writing, and editing. Responses came in from affected countries all over the world.
[click_to_tweet tweet="ProWriter sent a survey to thousands of freelance writers to see how this pandemic is affecting the gig economy. Here's what they said..." quote="ProWriter sent a survey to thousands of freelance writers to see how this pandemic is affecting the gig economy. Here's what they said..."]
They gave us a boots-on-the-ground look at what kind of work has dried up or picked up, how concerned they are about their finances, and what kinds of opportunities they see on the other side of the pandemic.
Many also offered great advice for freelancers less secure in their careers who might be struggling.
If you're a freelancer reading this, hopefully, you'll come away strangely encouraged (we did) and if nothing else, know that you are not alone in what you're facing right now.
How hard has the freelance market been hit?
Roughly half of the respondents (46 percent) said that they had lost work due to economic slowdowns caused by the pandemic. Many freelancers told us that steady work had started to dry up or that contracts fell through at the last minute.
"I've had one digital marketing client that was just on the cusp of signing a deal and has now completely stopped responding to me," said one of the respondents.
For others, the loss of work was absolutely devastating. "Eighty percent of our retainer revenue was lost in 48 hours," said one agency marketer. "We have several content creation contracts and every one of them canceled (hopefully temporarily) because of closing their businesses."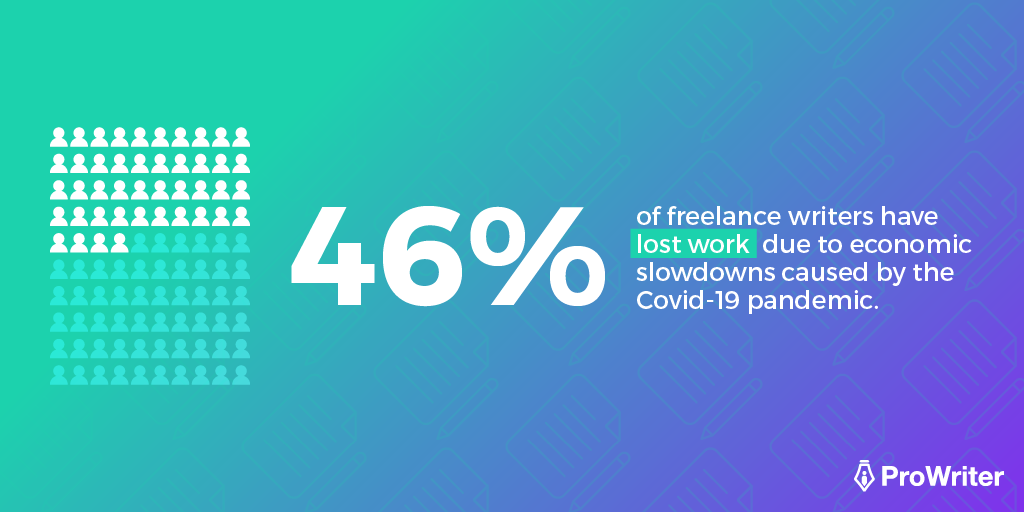 (Click the image above to share to Twitter)
Like so many others affected by the outbreak, many freelancers are worried about their financial prospects.
Half said that they do have some emergency savings. But a majority of those without a nest egg are looking at limited options.
For example, roughly 56 percent of freelancers we surveyed do not have full-time employment elsewhere to rely on when freelance opportunities dry up. Among that cohort, 64 percent do not have a partner's income or family help to fall back on, either.
Despite these numbers, only 23 percent of respondents said they are somewhat or extremely concerned about their professional income and earnings prospects during the course of the pandemic.
What freelancers are saying:

"Frankly, this has been a positive shift for me career-wise because it's forced me to think more creatively and take some risks."

— Jana, Portland OR.
Nearly 37 percent were only moderately concerned, with the rest feeling fairly optimistic.
Though public stimulus policy will certainly help the struggling cohort, most of the freelancers we talked to had what we can only describe as a kind of noble grit about their situation.
"Dwelling on stress doesn't actually make the problems go away," said Jessica, a full-time artist and writer in Mexico City. "If you're not making money and there's nothing you can do about that, put your energy into a passion project. Doing that will only make your life better."
Where is the work right now?
Many businesses are in the midst of making difficult cuts to stave off recession hardships. Because of this, it's tough to get a real idea of the actual economic impacts on various markets right now.
Still, many of the freelancers we talked to saw work diminish in some of the same industries. Others pointed out impacts that may become a bellwether for other freelancers looking for work.
Most respondents said their online publishing gigs (ranging from "celebrity puff pieces" to viral listicles) had either reduced workloads or disappeared overnight.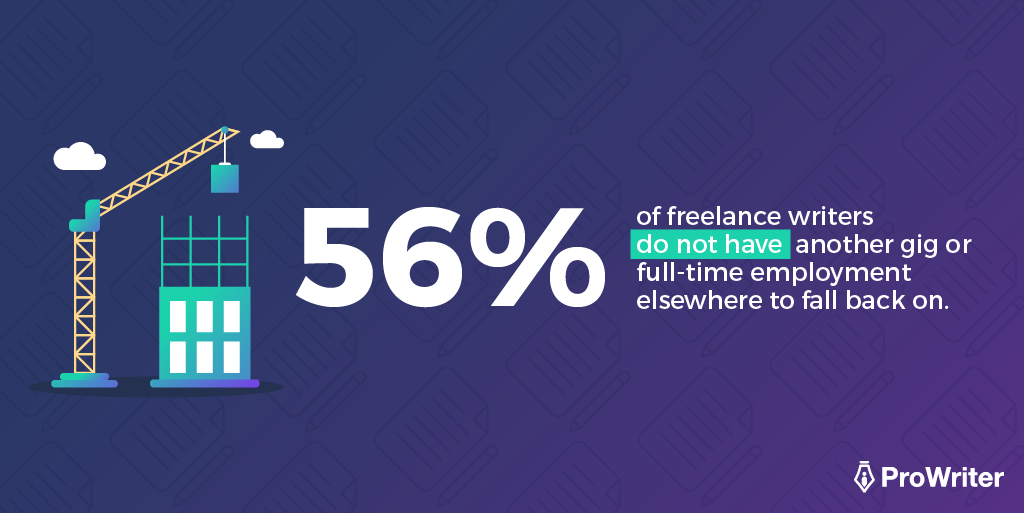 (Click the image above to share to Twitter)
Other markets that seem to be struggling include travel, food service, and nonessentials. One writer remarked that the hospitality industries are "practically non-existent right now."
Casey, a writer and editor based in Ontario, said that the legal field has been a surprise casualty. "Work based on legal decisions is drying up fast because most courts and administrative tribunals have stopped hearing non-urgent cases."
Some writers said that while direct client work had taken a hit, agency work was still flowing. A Vermont-based writer said that they have more work than ever.
"The content has changed to go with the times, but more and more people are online, so I have more work," they said.
Rita, a freelancer based in Chicago, said that while she's moderately concerned, she hasn't seen a dip yet that falls outside the norm. "Last week, I had almost no work. This week, I'm overloaded again. It's about the same as usual; feast to famine and back every other week."
What does the future of freelancing look like?
One of the questions we asked freelancers is how they think freelancing will change, both during and after the pandemic.
We asked for both positive opportunities they see, as well as fears and anxieties (not directly related to their health) keeping them up at night.
The responses were polarized. Freelancers seemed evenly split between optimistic outcomes and worrying challenges ahead.
What freelancers are saying:

"There is work, but you must go out and build relationships to find it. And for the love of everything, stop taking less than 5 cents per word."

— Elizabeth, Nashville TN.
In the positive outcomes camp, many saw the economic disruption as an opportunity for the freelance market to grow.
As businesses adapt to remote work, they'll find that freelancers are an excellent and cost-effective resource they can turn to for a variety of jobs they may have relied on in-house, salaried workers for.
Many are also seeing a surge in demand for content related to the pandemic itself.
"As a writer, there are a host of opportunities to write about COVID-19 and all of its impacts. Demands have actually gone up," said Gary, a writer based in Los Angeles. "There seems to be no shortage of demand for content, so I am keeping extraordinarily busy."
But many freelancers are worried that massive layoffs will create more competition as formerly-salaried professionals begin seeking freelance work.
"I think (worry, really) that a lot more people will be working from home, and that the platforms will be flooded with new talent and people willing to work for less," said Jessica, a freelance writer and editor from Coudersport, PA.
What freelancers are saying:

"You have time now, and lots of it. Build your portfolio. Write that fiction story you've had tumbling around in your mind for years. Journal your thoughts in a daily or weekly blog."

— Jeanette, Boise ID.
Industry vets like Keith, a freelance writer with 18 years' experience, worries that writers just starting out will have a harder time. "The competition just got a lot harder. The crisis might help well-established freelance writers. Anyone else might find it difficult to land gigs."
However, some writers, though moderately concerned, think there will be an opportunity to make up for lost time. "I really believe that the economy will surge after this," said Alicia, a part-time writer based in New York. "I am hopeful that I will make up any lost income."
What younger freelancers should be doing
Lastly, we asked the full-time industry vets to provide some advice for the freelancers who are just starting out, haven't built up a reliable client base yet, and might be more worried about their prospects.
Many responses recommended that new freelancers focus on new opportunities and keeping busy.
Ultimately, we identified 5 key takeaways from the responses for freelance writers to focus on:

(Click the image above to share to Twitter)
Though it might be tempting to make compromises to keep the lights on, some responses cautioned against this.
"Stay calm, showcase your talents clearly, and don't reduce your rates just because of the current global situation," said Jake, South Africa-based writer. "You're worth your rates (probably even more than your rates). Don't belittle your worth simply due to an epidemic." 
Some respondents who work with freelancers suggested that this might be the time to carve out a niche.
"Specialize!" wrote Jason, a Marketing Strategist from digital media firm Mediastead. "There are hundreds of thousands of freelancers hustling for $50 jobs writing blog posts. The more niche your services, the more likely you will get high dollar value monthly retainers."
Above all, most veterans wanted younger freelancers to feel reassured that there will be a tomorrow.
"Don't panic.," said Mandy, a writer based in the UK. "Every year there's a time where work load is low. What we do know is that this will be over at some point."
How to keep the conversation going
At ProWriter, our mission is to foster support for freelance writers by establishing a community designed to increase their knowledge and skills, build reputations for quality and professionalism, and establish rewarding careers.
Our thanks go out to everyone who participated in this survey. Efforts like this help us engage with the real challenges facing freelance writers so that we can better serve our growing community.
We're always looking for feedback on how we can help freelancers with the problems they are actually facing. If you have some thoughts or feedback, or want to get in touch with us, you can do so here.
About the Author